Even after two years of reviewing and putting stuff on internet radio, I run into bands I don't know – and it looks like that is not going to change anytime soon. On the table right now is the album Dawn of Eternity by German prog rockers Crystal Palace. A band that's been active since 1995 as far as album releases are concerned, releasing their debut about a year after their start in 1994.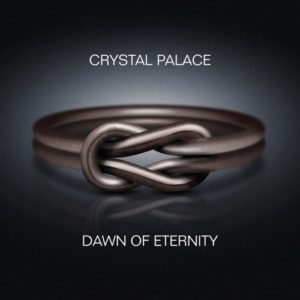 The band required some investigation on my part, as I knew the name but not the music (as often happens to me). Although dubbed Neo-progressive on progressive rock database giant ProgArchives, the band have quite a bit of hard rock and metal influences in their music – probably stemming from their roots as an AOR band in the mid '90s. This also shows on this album, for example in Confess Your Crime, which starst after the atmosperic brief instrumental opener Dawn. Something in Confess Your Crime, probably the keyboards and vocals vaguely remind me of early Dream Theater work. However, there are also influences of older Pendragon and perhaps even IQ in there. The track changes from metal like to a more heavy psychedelic midsection, and then to a very well sung keyboard and vocal part at around 2/3. Certainly a nice introduction the album as well as the band. [acfw id=2]
Eternal Step starts again with an almost metal guitar intro, and again a vocal part that reminds me of Dream Theater – actually this track has a similar, but softer, feel as Surrounded in places. The build up from the opening to the melodic guitar solo and the heavier ending is great on this track. And building up tracks is something that certainly characterises this album – it works on this track, but also on the very well arranged Fields of Conciousness, which starts with a melancholic guitar tune, then builds up via something close to alternative rock to a metal-like ending. The vocals on this one are emotional and very good.
Word to the drummer also – for example on Heart of Sale, which has a slight echo on the upfront drums, which works well with the electronic sound of the keyboards and the guitar riff. An other great drum track is All of this, which is heavy and dark, but still melodic and contains a very well done guitar solo.
Another track worth mentioning is Sky without Stars, which starts with a pulsating guitar and emotional vocals, until guitar, bass and drums join in to make it more powerful, without speeding up. As the music softens a bit halfway, the vocals beautifully reappear from the echoes, working toward a Porcupine Tree like soundscape at the end.
Crystal Palace are band with many influences, and they deliver a powerful album here. Probably not the biggest hit in the genre this year, but certainly recommended for fans of heavier progressive rock with 80s neo and 90s prog metal influences. The singer and drummer alone are already worth having a thorough listen.